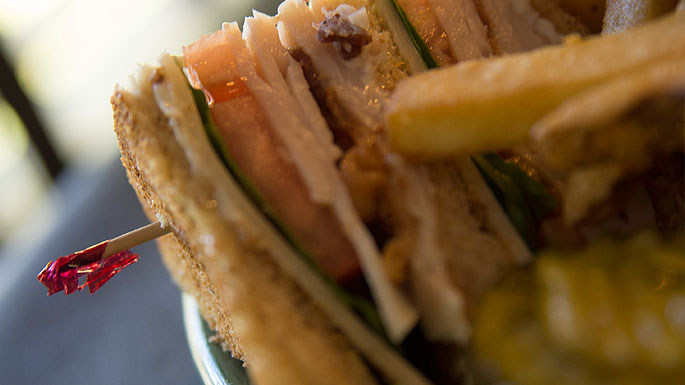 Appetizers
Chicken Quesadillas ~ $7.99
Chicken, onions and cheese in a large flour tortilla
Texas Fries ~ $6.49
French Fries loaded with cheddar cheese and bacon
Buffalo Hot Wings ~ $6.99
1/2 Dozen Wings with Celery and Blue Cheese Dressing
Fried Okra ~ $5.99
Slices of okra deep fried with ranch dressing
Chips & Salsa ~ $4.99
Home-made tomato salsa.
Fried Mushroom Caps ~ $7.49
A basket of mushroom caps - deep fried and served with ranch dip.
Smothered Potato Skins ~ $5.99
Fried skins are baked with cheddar cheese and bacon, and served with sour cream.
Fried Green Beans ~ $6.49
Crispy, seasoned with onion and served with horseradish sauce.
Beer Battered Onion Rings ~ $6.49
Made the "Old Fashioned" Way.
---
Burgers & Sandwiches
Turkey Club ~ $7.49
Thinly sliced honey-cured turkey breast, Swiss cheese, crisp bacon, mayo with tomato and lettuce served on a hoagie or honey wheat roll
Grilled Ham and Cheese ~ $7.49
Smoked ham and double Swiss cheese on grilled rye bread
Grilled Cheese Sandwich ~ $5.49
American cheese on grilled white bread
Filet O' Fish Myrtie ~ $8.49
Breaded cod filet served on a deli roll with lettuce, tomato and tartar sauce.
American Patty Melt ~ $7.49
An American classic: Our delicious burger topped with grilled onions and melted American cheese on rye bread.
Grilled Chicken Breast Sandwich ~ $6.79
with mayonnaise, tomato and lettuce
Reuben, Reuben ~ $8.99
Lean corned beef sliced, grilled on rye with sauerkraut, Swiss cheese and our special dressing
French Dip ~ $7.99
Thinly sliced hot roast beef served on a deli roll served with a cup of savory au jus
All American BLT ~ $6.99
Country bacon, lettuce, tomato and mayonnaise on toast
Steak Sandwich ~ $15.99
A Rib-eye steak cooked to order then sliced and served on a whole wheat roll with lettuce, tomato and horseradish sauce on the side
Hamburger ~ $7.49
1/3 Lb. Of Pure Beef on toasted bun served with all the fixin's.
BBQ Chicken Breast ~ $7.99
A 4 oz chicken breast marinated in our special sauce, grilled to perfection and served with lettuce and tomato
Add French Fries for $1.99 or Add Onion Rings for $3.95
Add a Side Salad and a Muffin for $4.59
---
Myrtie's Lunch Plates
Each lunch plate served with a side salad, muffin and your choice of French Fries or mashed potatoes
3 Piece Ozark Fried Chicken ~ $10.49
3 pieces of Myrtie's Famous Chicken
Special Requests: $1.00 extra per piece
2 Piece Ozark Fried Chicken ~ $9.49
2 pieces of Myrtie's Famous Chicken
Special Requests: $1.00 extra per piece
Catfish Filets ~ $15.29
Boneless Farm raised catfish filets, deep fried and served with hushpuppies
Grilled Beef Liver ~ $10.29
Smothered with onions
Chicken Strip Dinner ~ $12.50
3 tender and juicy chicken tenders breaded and fried
Jumbo Gulf Shrimp ~ $14.79
Deep fried and served with Myrtie's tangy red sauce
Hot Roast Beef Sandwich ~ $11.99
Served open-faced with whipped potatoes and brown gravy
Chopped Sirloin ~ $13.49
Choice ground round cooked to order and smothered with grilled onions
Fish & Chips ~ $14.79
Filet of cod, deep fried to tenderness and served with French fries
Country Fried Steak ~ $10.99
Choice tender beef steak, dredged in seasoned flour and served with country milk gravy
Myrtie's Chef Salad ~ $8.49
Our fresh salad greens are topped with sliced Julian ham, sliced turkey, diced eggs, tomatoes, cucumber, broccoli, onions, and shredded cheddar cheese
Salad & Muffin ~ $4.59
A side salad and a homemade muffin