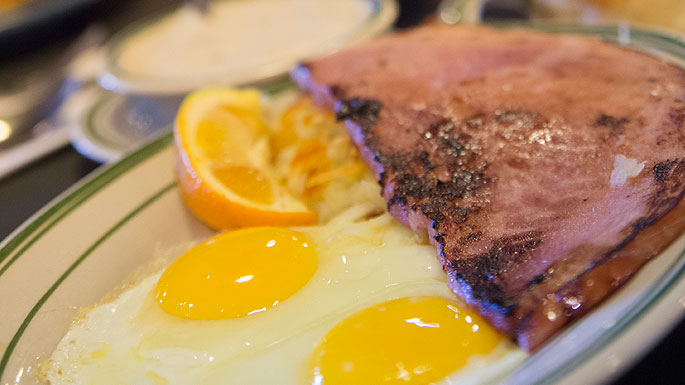 Get your Vitamin C the tasty way with a glass of orange, V8, apple, cranberry or ruby red grapefruit juice ~ $2.75
Bakery's Best
Honey and fruit preserves available with all selections
Large Home Baked Cinnamon Roll ~ $3.99
Home Baked Muffin ~ $1.95
Toasted English Muffin ~ $1.95
Cinnamon Raisin Muffin ~ $1.99
3 Slices Toast or Cinnamon Toast ~ $1.99
3 Slices Rye or Raisin Toast ~ $2.49
2 Ozark Country Style Biscuits ~ $2.99
---
Myrtie's Breakfast Plates
Myrtie's Famous Eureka Omelette ~ $9.49
A 3 egg omelette, filled with ham, cheddar cheese, mushrooms, green pepper, onion, and tomato, served with toast or biscuits & gravy and hash browns
All American Breakfast $8.25
Myrtie's patriotic platter comes with two eggs cooked to order, served with bacon, sausage, or ham, hash browns, toast or biscuits & gravy
Steak & Eggs ~ $15.99
Two eggs cooked to order served with a choice 6 oz ribeye steak, hash browns, and choice of toast or biscuits & gravy
Country Classic ~ $5.49
2 large country biscuits and a big bowl of country gravy
Myrtie's Ozark Breakfast Basics ~ $7.49
Two eggs cooked to order and served with hash browns, toast or biscuits & gravy
Served with 1 egg ~ $5.95
Early Bird ~ $7.95
Scrambled eggs cooked with diced ham and served with hash browns, toast or biscuits & gravy
Veggie Hashbrowns ~ $7.49
Fresh hash browns cooked on the grill with onions, broccoli, green peppers, and mushrooms, and topped with tomatoes, salsa and cheese
Jogger's Special ~ $7.49
Granola cereal with skim milk, two eggs cooked to order, and served with dry wheat toast
---
Homespun Omelettes
Eggzactly as you like them!
Myrtie's Fluffy 3-Egg Omelette ~ $7.99
Myrtie's fluffy 3-egg omelette is served with hashbrowns and toast or biscuits and gravy
Myrtie suggests that you choose from the following fixin's to creat your own "eggstravaganza":
Cheddar Cheese
Monterey Jack Cheese
Tomato
Mushrooms
Onion
Sausage
Green Papper
Diced Ham
Broccoli
Bacon
Each additional ingredient $ .50
Salsa available on request
---
From Myrtie's Griddle
All selections served with warm syrup and whipped butter. Lite syrup available.
Buttermilk Pancakes
An "Old-Fashioned" Ozark breakfast Stack - 3 BIG hot cakes ~ $7.99
with blueberries ~ $8.49
Short stack of two hot cakes ~ $6.49
with blueberries ~ $6.99
Malted Belgian Waffle ~ $7.49
Light, crispy, thick and tasty
French Toast ~ $7.49
Thick slices of toast dipped in egg batter and grilled, then dusted with powdered sugar
Eureka Breakfast Sandwich ~ $7.49
Two hot cakes with a fried egg in between
---
"Eggscetera"
Side orders from the Ozarks and other neat places
One egg, any style ~ $1.29
Two eggs, any style ~ $1.99
Country-Cured Bacon (3 slices) ~ $3.29
Sausage Patties (2) ~ $3.29
Breakfast Ham ~ $3.29
Hash Brown Potatoes ~ $1.79
Granola cereal ~ $2.99
Select Dry Cereals ~ $2.95